Our Story
Vasari Classic Artists' Oil Colors was established by master paintmaker Stephen Salek, a Pennsylvania Academy of the Fine Arts alumnus, class of '73. Painting and artists' materials have been his singular endeavor for the past 50+ years.
Pictured here at our spacious Easton, PA showroom and paintmaking atelier, Stephen continues to personally guide every aspect of the Vasari Oil Colors process, from the selection of raw materials to the nuanced balance of our proprietary colors.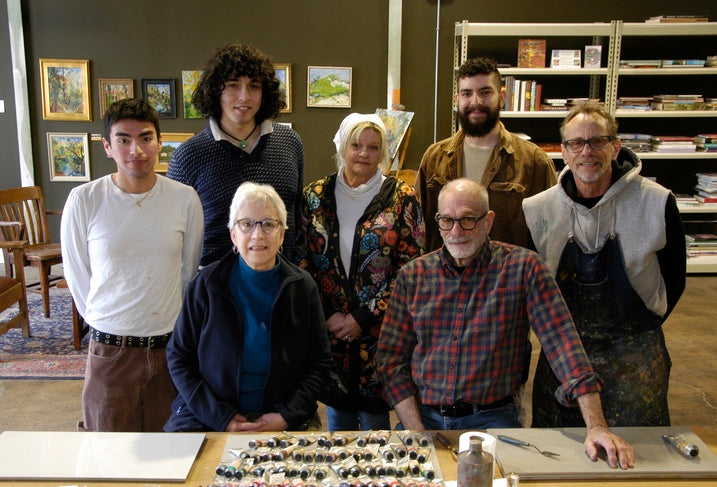 Our Team
Our small team of veteran paintmakers ensure that every tube of oil color that leaves our workshop in Easton, PA meets his uncompromising standards.
Since 1995, we have helped painters personally select their colors at our New York City showroom and now also here in historic Easton. We encourage you to come visit and push paint around on a palette to experience for yourself what all of the care and effort that goes into our colors delivers. Visit the page about our Chelsea - Easton Showrooms for details.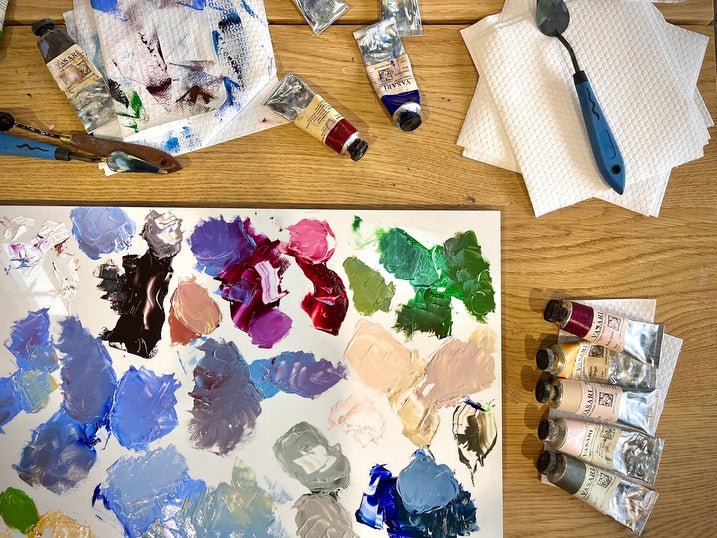 Our Colors
Like the painter's apprentice, we still carefully handcraft our colors in small amounts and even fill every tube by hand.
These traditional methods of paintmaking ensure the purity of color and lush consistency, enabling us to impart the secret of the Old Masters to the modern day painter. Working with only the very best alkali refined Linseed Oil and the finest authentic pigments, we passionately refuse to dull, stiffen, or weaken our colors with fillers, such as chalk or wax, which would result in a dry thick paint.
This is why the conservation department of the Smithsonian, Washington, DC, archived our colors decades ago.
Our line of over 140 colors includes the traditional colors that have been the staple of artists over time, but we've also taken the classic paintmaking techniques of the Old Masters and brought them into the 21st century with the addition of modern pigments unavailable to previous generations. 
In addition, we offer a line of proprietary colors, carefully developed pigment combinations exclusive to Vasari Classic Artists' Oil Colors and not available from other makers.
Proprietary mixtures are nothing new nor are they an act of deception hiding an inferior pigment. Impassioned by the tradition of the Old Masters, we authentically handcraft our unique mixtures to simply offer, to all, the same degree of exclusiveness, once only reserved for the Master. Like the painter's apprentice, we are proud to preserve this art of paintmaking and authentic paint.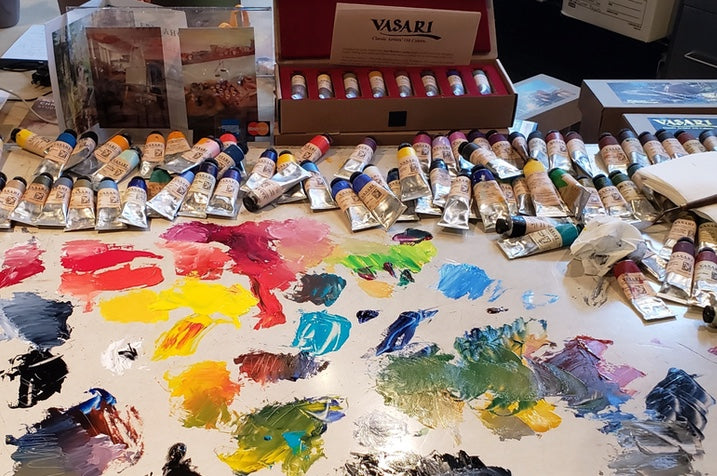 Our oil colors are so vibrantly rich with pigment, so buttery smooth and consistent in their flow characteristics, that painting with them is a different experience. Immensely pure color and a creamy consistency that makes for a truly responsive paint, one that easily mixes where you take it, becoming pure magic in your brush and on your palette!
Vasari Classic Artists' Oil Colors can help you take your painting to another level, enabling every painting you paint to be your very best. Proudly made in America.